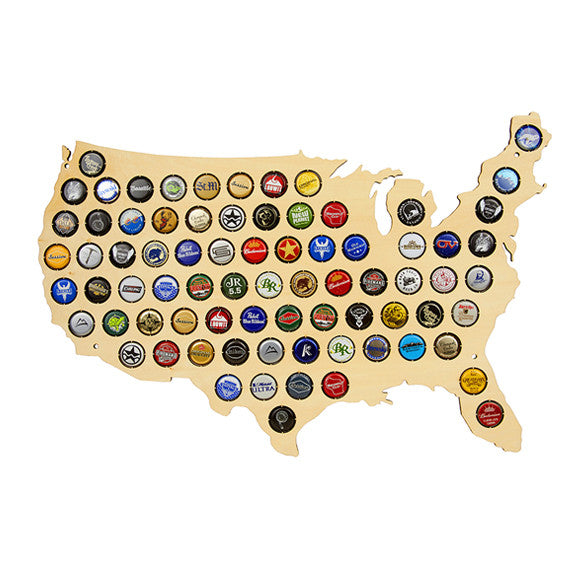 Shipping & Handling Information
Product Description
Display your beer bottle caps in a patriotic style with this USA beer cap map laser engraved right here in the United States. Makes an ideal gift for groomsmen, Father's Day, man cave decoration, or anyone else who wants to display their cool beer cap collection in style. USA Beer Cap Map, Laser Engraved Beer Cap Map, Beer Bottle Cap Map, Beer Cap Holder, Beer Cap Display, Beer Aficionado, Personalized Gift, Gift for Him, Groomsmen gift, Father's Day Gift, Christmas Gift, Boyfriend gift, Valentines day gift, Christmas Gift, Gift for Husband, Laser Engraved Gift for Men.

Specifications & Details:
- Laser engraved beer cap map
- Approximate Size: 23''x 16''
- Approximate Size: 3/16" thick
- Number of Cap Holes: 78
- To use simply insert your cap from the back of the map
- Each beer cap map is precisely cut to easily fit most standard beer caps
- Includes pre-drilled holes you can use to easily hang the map on the wall
- Hanging hardware NOT included
- Caps Are NOT Included in the package

If you want custom engravings it's only $5 to get a name or phrase added above Idaho and Montana. Just pick the Custom Engraving option and let us know in the space provided what you want it to say. Samples Below:
-Bryan's Bar
-David's Man Cave
-Made in the U.S.A.
-I Love Beer
-Name or Nickname

Returns:
We will except returns on all beer cap maps that have been damaged in shipping or have a manufacture defect (Our Mistake) or if we misspell your custom engraving. Beer cap maps are not refundable because you may not like the color of wood grain. All personalized maps are not refundable.