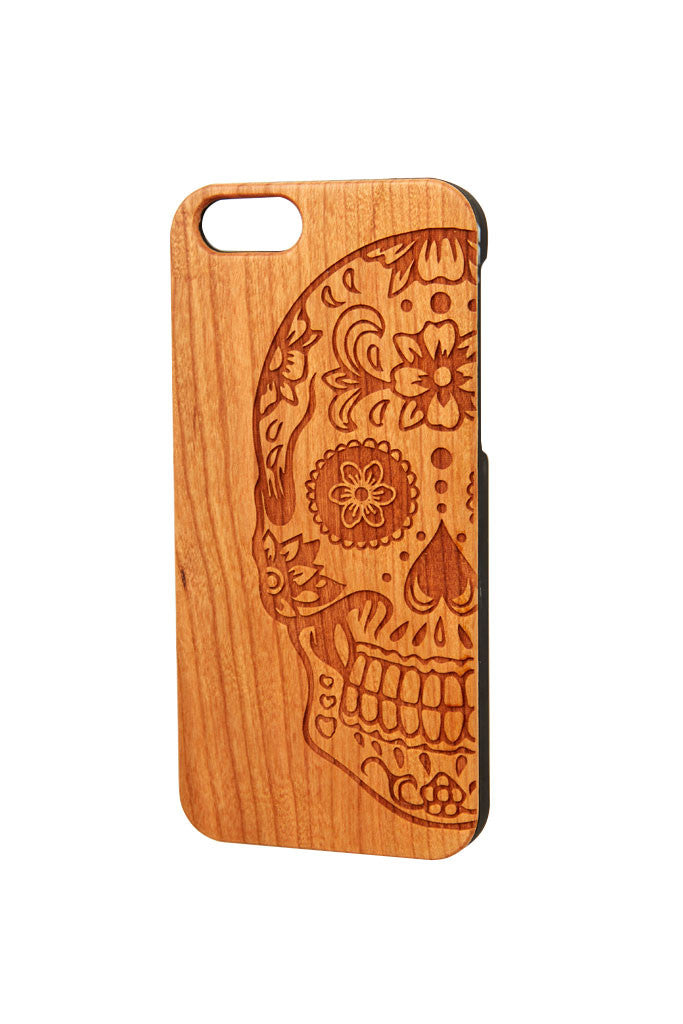 Shipping & Handling Information
Product Description
Sugar Skull 2 laser engraved wood iPhone and Galaxy case. All cases are cherry wood and have a poly carbonate slim look shell. Case Worx is our own brand of cell phone cases.

Wood Cases available for:
iPhone 5, iPhone 5s
iPhone 6, iPhone 6s
iPhone 6 plus, iPhone 6s plus
Galaxy S5
Galaxy S6
Galaxy S6 edge.

Specifications and Details:
iPhone and Samsung Galaxy phone cases are made out of a flexible poly carbonate plastic with 100% natural Cherry wood bonded to the back of the housing. Adhesive resin is used in the bonding process for a secure high-quality fit without any separation of the wood to the housing case. Each case is designed to fit your phone perfectly without slippage. The grooves and cut-outs in the flexible poly housing match your phone specifications and does not hinder with the buttons, screen, or the camera and flash locations, In addition none of our cases interfere with cell phone reception and Wi-Fi usage. Every cell phone case is built for lightweight comfort and the wood is finished to protect from natural elements.

Name Option:
If you want your name or nickname engraved on the phone just select your model phone with name and we'll engrave it for you. It's an extra $3 for that service.
Disclaimer:
Because of the uniqueness of wood every cell phone case is slightly different in color, wood grain-line, shading and look. However, we examine every case before we engrave it and if it does not meet our standard we do not use it.

Returns:
We will except returns on cellphone cases that have been damaged in shipping or have a manufacture defect. Cellphone cases are not refundable because you may not like the color or wood grain. All personalized cell phone cases are not refundable.